Description
Presented in Feb. 2013 – Duration 6 minutes and 40 seconds
This is a short film that was shown at the Nomura Real Estate Development's "PROUD Box Thank You Festival" and "PROUD Time Thank You Festival" events. As a collaborative work with Nomura Real Estate's "PROUD" brand, it uses the overall themes of "Future" and "Family Bonds" to weave a touching and heartwarming story.
Afterwards it was shown in theaters with the May 31st, 2013 premier of The Garden of Words. It was produced at approximately the same time, and features some of the same locations that were used in The Garden of Words.
Story
Sometime in the near future…
Aya Okamura has been working for 2 years and has just started living on her own. Her father, who lives together with the family cat, Mr. Mii, is always concerned about Aya, but there is a subtle distance between them. One night, tired from work, she lays on her bed and closes her eyes. She sees herself as a young child, growing up happily together with her family and Mr. Mii always by her side… As the memories come flooding back, the phone rings…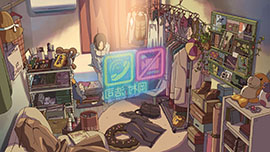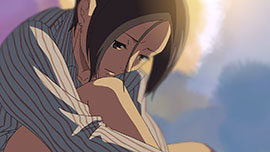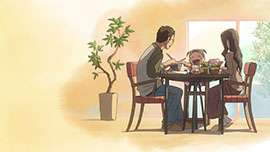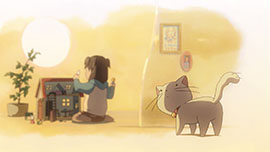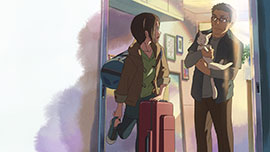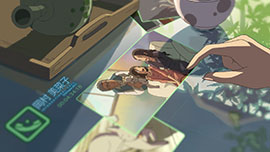 Staff
Director / Screenplay / Storyboard: Makoto Shinkai
Character Design and Animation Director: Miho Suzuki
Theme Song: Kazusa "Sore de Iiyo"
Keyframe Animation: Toru Arai, Sanae Yamamoto, Miho Suzuki
Background Art: Takumi Tanji
3DCG: Yoshitaka Takeuchi
Compositing: Yoko Miki, Chihiro Omi, Makoto Shinkai
Voices
Narration: Fumi Hirano
Aya Okamura: Satomi Hanamura
Koji Okamura: Shinji Ogawa
Rina Endo, Hiroshi Shimozaki, Kuniko Ishijima, Yuri Fujiwara